Connecting with J/i Attendees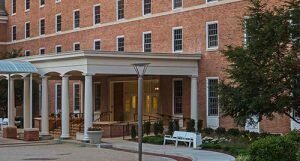 Journalism Interactive 2017 will bring together several hundred journalism educators and professionals from around the country, all with a keen interest in cutting-edge digital storytelling tools, technologies and concepts. They will convene at the College Park Marriott Hotel & Conference Center on Oct. 20-21, 2017 in College Park, Md.
Sponsorship Packages

Our lead sponsor this year is the Knight Foundation, which is generously supporting  our efforts to provide education, training and networking to journalism educators. We offer other sponsorship packages to connect with our digital media education community, including those listed below. For additional information and our rate sheet, please send an email to Leslie Walker, one of the conference organizers: lwalker3@umd.edu. Opportunities include:
1. Session package sponsor
Sponsor organization works with J/i planners to sponsor and help organize one session (panel, hands-on training or keynote) on a topic of interest to the sponsor and attendees. In addition, the sponsor organization and its logo will be featured prominently throughout the conference materials– website, printed program, large screen in main session hall. Sponsor also receives these benefits:
Four full conference passes, including all meals for two days.
One insert in attendee gift bag (sponsor to provide the item.)
Opportunity for a display table in main entrance hallway during training sessions on Saturday.
2. Teach-a-thon Sponsor
The J/i conference features a 90-minute series of lightning-round talks from journalism educators who share their classroom teaching experiences and tutorials. Sponsor is not only listed as the chief supporter, but also has the option to participate in the Teach-a-thon by having a staffer or designee present one idea for teaching. Sponsor logo will be displayed prominently during the Teach-a-thon session. Sponsor also receives these standard sponsor benefits:
Branding: Logo and organization name displayed on conference website and in printed program.
Two full conference passes, including all meals for two days.
One insert in the attendee gift bag (sponsor to provide the item.)
3. Dinner sponsor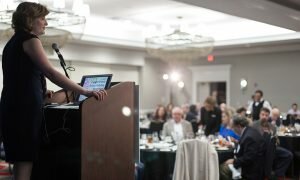 Put your organization at the center of the Friday night dinner, which is part of every attendee's conference package. Sponsor has the option to make an announcement or brief remarks during dinner, receives one reserved dinner table and the opportunity to display signage in the banquet room during dinner. Sponsor also receives these standard sponsor benefits:
Branding: Logo and organization name displayed on the conference website and in the printed program.
Two full conference passes, including all meals for two days.
One insert in the attendee gift bag (sponsor to provide the item.)