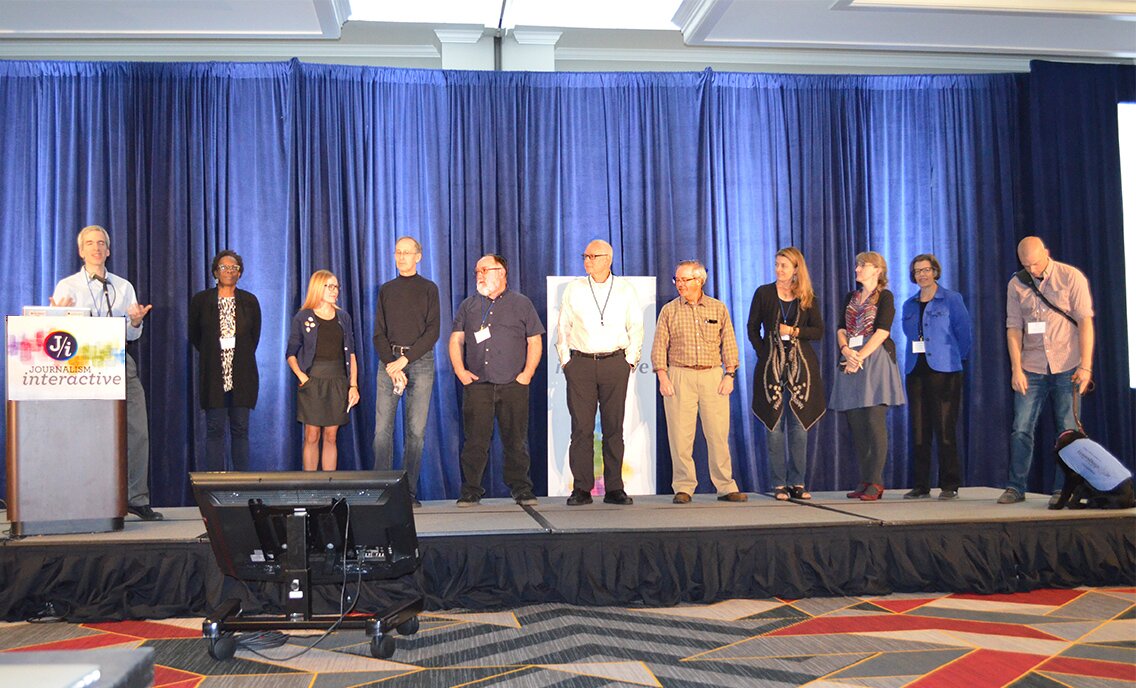 J/i Teachathon 2017
Friday, Oct. 20, 4 p.m. – 6 p.m.
Presenters:
Aleszu Bajak, adjunct professor at Northeastern University's School of Journalism, demonstrated a storytelling card game that marries the tools of digital storytelling with the techniques of the collaborative design process.
Kevin Blackistone, professor of the practice at UMD's Merrill College, and columnist/commentator for The Washington Post and ESPN's "Around the Horn," addressed teaching racial sensitivity in sports coverage.
Kevin Blackistone's 4-Minute Lecture from Julia Karron on Vimeo.
This short video of Kevin Blackistone's talk was compiled by Julia Karron, a student at the Philip Merrill College of Journalism.
Robin Blom, graduate director and assistant professor of journalism at Ball State University, described teaching media analytics in an immersive-learning class. The class has worked with a professional client, Visit Indy.
Jeremy Caplan, director of Education for the Tow-Knight Center for Entrepreneurial Journalism at the CUNY Graduate School of Journalism, described the interactive games and exercises he uses to engage journalism students in active learning. He shared time-tested games along with tips and tricks for using them.
Marie Gilot, director of CUNY J+ workshops at the CUNY Graduate School of Journalism, talked about "Product Thinking for News," a pilot class that taught journalists how to make news products that people trust, use and pay for.
Thom Lieb, professor of journalism and new media at Towson University, shared his YouTube playlist on the history of digital news.
Mary Kay McFarland, teaching assistant professor at West Virginia University's Reed College of Media, described using Verse Video to share and collaborate on classroom projects.
Michael O'Connell, a Federal News Radio digital journalist, an American University adjunct instructor and the author of "Turn up the Volume — A Down and Dirty Guide to Podcasting," offered a beginner's guide to podcasting, including guidelines for projects that work and equipment and software that are needed.
Deborah Potter, founder of Newslab and a spring 2018 visiting professor at the University of Montana, described teaching verification tools for reporting, validating sources and fact-checking.
Jack Rosenberry, a journalism professor at St. John Fisher College, shared his lesson on verifying images using Google reverse image search and will touch on other image verification tools for mobile.
Jeff South, associate professor and director of undergraduate studies at Virginia Commonwealth University's Robertson School of Media and Culture, showed how to create seven essential graphics using free data visualization tools.
Ingrid Sturgis, associate professor specializing in new media at Howard University's Department of Media, Journalism and Film, talked about the challenges of teaching media literacy to digital natives who think they know it all.
Lisa Tossey, who joined Salisbury University's Environmental Studies Department this fall as a program specialist, discussed using multimedia effectively across platforms. By carefully considering how to tell a story within a VR or 360 view, journalists can plan how to incorporate images and short videos that will also work within a social media strategy.
Moderator: Chris Harvey, a senior lecturer at UMD's Merrill College, is a former managing editor for American Journalism Review and a former associate editor at washingtonpost.com. She ran the college's Capital News Service bureaus in Washington, Annapolis and College Park for 16 years.

See the full program lineup for Journalism Interactive 2017.